Mają jedne z najwyższych podatków i pogodę, która nie rozpieszcza. Mimo to Duńczycy to najszczęśliwszy naród na świecie. Żyjąc według filozofii Hygge, żyją wolniej, umieją cieszyć się z drobnostek i odnajdywać szczęście zarówno we wspólnym spędzeniu czasu jak i w długich samotnych wieczorach.
Meik Wiking, autor książki, jest dyrektorem Instytutu badań nad Szczęściem w Kopenhadze.
W książce przede wszystkim tłumaczy czytelnikowi czym jest Hygge i dlaczego jest jedn ym z najczęściej używanych słów w Danii.
W swojej pracy bada poziom szczęścia Duńczyków i docieka gdzie tkwi jego źródło.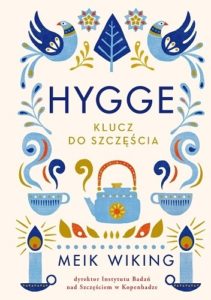 Hygge to duńska sztuka odnajdywania szczęścia i radości z życia w małych codziennych rzeczach. Słowa tego nie da się przetłumaczyć na język polski. W wielkim skrócie jest to wspólne pieczenie ciasteczek w ciemny, zimowy dzień. To zapalenie mnóstwa świeczek i czytanie książek układając w ulubionym fotelu. Odnajdywanie magii tam, gdzie inni widzą tylko kanapę i telewizor. Autor próbuje dociec jak i dlaczego te i inne Hygge rzeczy wpływają na ludzkie szczęście oraz przekazać wiedzę o tej prostej, a jednak niekoniecznie powszechnie znanej sztuce ludziom spoza Danii.
Kiedy na rynku pojawiła się ta książka na całym świecie zapanował szał na Hygge. Pomyślałam – pewnie jest fenomenalna, muszę ją przeczytać. Temat, owszem, zaciekawił mnie. Każdy z nas chciałby zapewne opanować sztukę Hygge, żeby w miły sposób urozmaicić swoje życie. Ba! Każdy POWINIEN umieć zadbać o swój komfort. Odpoczynek potrzebny jest wszystkim, niezależnie od tego czym zajmujemy się na codzień. Dzięki lekturze tej książki możemy wzbogacić naszą wiedzę na temat sztuki relaksu i celebrowania wolnego czasu samotnie oraz w gronie przyjaciół. Znajdziemy w niej również sporo przepisów kulinarnych oraz gotowych pomysłów na aktywne spędzanie wolnego czasu w sposób, w jaki ponoć robią Duńczycy – najszczęśliwsi ludzie świata.
Wszystko niby ładnie i pięknie, ale całość wydaje się być przesłodzona i sprawia wrażenie mało wiarygodnej. Pomijając samą treść merytoryczną, jedna sprawa skutecznie odbierała mi przyjemność czytania. Ciągłe powtórzenia. Niepotrzebnie autor tak często próbuje wyjaśnić czytelnikowi czym właściwie jest to całe Hygge. Za pierwszym razem wyjaśnił to dość dokładnie i rzeczowo. Ja rozumiem, że to jest takie wspaniałe i każdy powinien wiedzieć jak zadbać o swój komfort, no ale bez przesady. Ciągłe powtórzenia sprawiają wrażenie jakby czytało się pracę licencjacką, w której student wyczerpując temat na pierwszych kilku stronach musiał zapełnić resztę kilkudziesięciostronicowej pracy. Wielokrotne czytanie tego samego może czytelnika skutecznie znużyć.
Ponadto widać, że Meik Wiking ma skłonność do sporej przesady. Przynajmniej mam taką nadzieję. Według niego Duńczycy jedzą tylko tłuste mięso polane gęstymi sosami i przegryzają to wszystko cukrem. Zastanawiam się jak oni to robią, że ich populacja gwałtownie się nie kurczy.
Mimo to całkiem sporo dowiedziałam się o duńskim fenomenie Hygge. Widać, że autor starał się podejść do tematu jak najbardziej naukowo. Niekoniecznie wyszło jak miało wyjść, ale widać, że włożył w to sporo czasu. W książce znajdziemy liczne tabelki i statystyki. Wielkim plusem są tutaj zdjęcia. Są ładne, pasują do definicji Hygge przedstawionej przez autora i stanowią miłe dla oka uzupełnienie tekstu. Projekt okładki również mi się spodobał. Solidna, twarda oprawa z niebanalną grafiką sprawia, że książka bardzo ładnie prezentuje się na regale.
Nie jestem przekonana czy mogę z czystym sercem polecić wszystkim tę książkę. Jeżeli szukacie czegoś co cieszy oko i wzbogaci wygląd waszej biblioteczki to czemu nie, można po nią sięgnąć. Natomiast sam tekst wydaje mi się delikatnie naciągany i mało odkrywczy.
Tłumaczenie: Elżbieta Frątczak-Nowotny
Wydawnictwo Czarna Owca